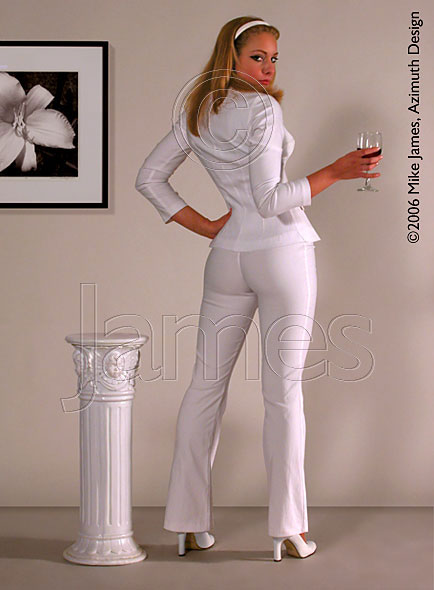 P217 White Lilly
Okay, I see what you're doin'. 
In the previous picture I basically said "the less clothes the better, on this girl". 
So now, Mike's going to show me Mica can look mind-blowingly sexy 
covered neck to ankles. Well, it doesn't work my friend!

Oh sure, Mica is plenty sexy here....wet-my-freakin'-pants sexy! 
I'd happily drop a grand for a datenight with Mica dressed exactly like this. 
But, you cheated, Mike! Because Mica's not completely clothed!
Her flimsy white suit clearly reveals she's not wearing panties. 
So, I win!

That said, I will give Mike and Mica their props: Covered up head to toe, 
these two can still put together an image that's crazy sexy. 
You can't say THAT about many photographer/model couplings out there.
Bravo. 
            

Copyright © 1999 Mike James, Azimuth Design
All photographs, in whole or in part, and all related materials are 
copyrighted and registered intellectual property of Azimuth Design. 
All rights reserved, in any media.
---
The Gremlins in the Garage webzine is a production of Firefly Design. If you have any questions or comments please get in touch.

Copyright © 1994-1997 Firefly Design.