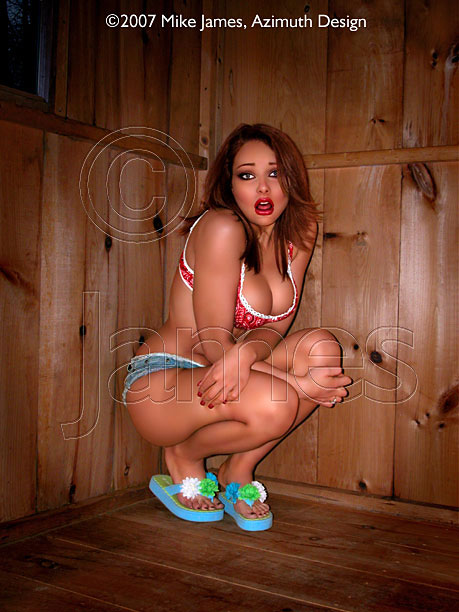 P218 Cornered
Okay Mike, now you're just showin' off. Putting Mica in a horror film 
tableaux just to show you two can go a whole new way ... and make that sexy too. 
The costuming, I must say is perfect; little country-girl top, cut-off jeans, 
cute little sandals. The balled-up pose and gaze of terror is what you'd expect.
But little nuances, like Mica's positively buttery skin, her arms squeezing 
her breasts into beautiful fleshy globes, and the sight of her 
little pink tongue floating in her mouth are just outstanding touches.
            

Copyright © 1999 Mike James, Azimuth Design
All photographs, in whole or in part, and all related materials are 
copyrighted and registered intellectual property of Azimuth Design. 
All rights reserved, in any media.
---
The Gremlins in the Garage webzine is a production of Firefly Design. If you have any questions or comments please get in touch.

Copyright © 1994-1997 Firefly Design.