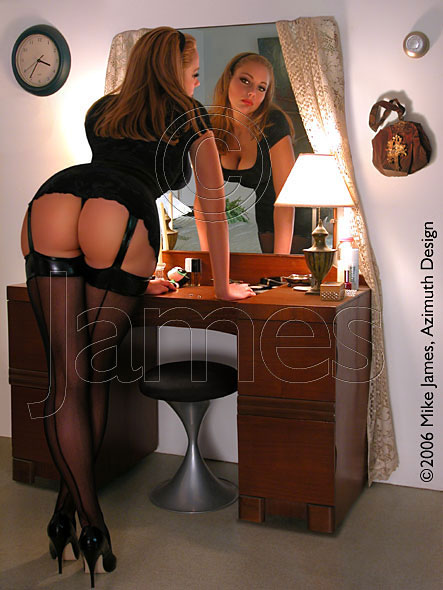 P219 Blush
I dig the title because I don't know exactly what it refers to, but anything I consider is erotic.
If she's just finished putting blush on her cheeks, she's looking at me as if to see if I approve.
Very pretty face, there. If it's that her bum has a rosy blush, well then I'm thinking someone (me) 
has recently "warmed" her silky backside with a paddle. (Oh please let it be that one, Mike.)
If it's ME that's blushing, it's because my heart's racing, understandably.
This is just a beautiful, beautiful image. I so love the crossed legs. It's all just wonderful! 




See? Great face! Splendid make-up.

Copyright © 1999 Mike James, Azimuth Design
All photographs, in whole or in part, and all related materials are 
copyrighted and registered intellectual property of Azimuth Design. 
All rights reserved, in any media.
---
The Gremlins in the Garage webzine is a production of Firefly Design. If you have any questions or comments please get in touch.

Copyright © 1994-1997 Firefly Design.