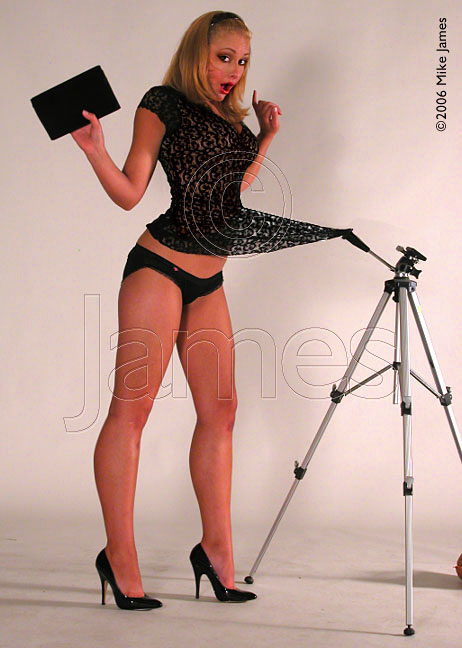 P225 Snag
Cute. 
I recognize the "Cheat Dress" here again. Not complaining, since 
I get a nice clear shot of Mica's mega-cute ruffled undies. 

Because of the tripod (doubtlessly nearby) I'm guessing Mica actually snagged her 
dress on a tripod, or some other piece of studio equipment and Mike (always alert for 
an idea) decided to reproduce the event. The result is a little posey for my tastes,
but who cares? When staging is this obvious, you accept it on it's own terms. 

The dress is a killer. The headband, oh so proper. Mica's body and expression are perfect, 
the arched back, the thrown-back shoulders, the raised eyebrows and open mouth,
the silly clutch purse, the pinky sticking out, all plainly planned, but all very sweet.
           

Copyright © 1999 Mike James, Azimuth Design
All photographs, in whole or in part, and all related materials are 
copyrighted and registered intellectual property of Azimuth Design. 
All rights reserved, in any media.
---
The Gremlins in the Garage webzine is a production of Firefly Design. If you have any questions or comments please get in touch.

Copyright © 1994-1997 Firefly Design.